Technical data
LR Series
Performance characteristics of low ESR winding supercaps:
Low internal resistance series supercaps. This product uses a new internal design and advanced materials to ensure low ESR.
Typical application of low ESR winding ultracap:
RAM, Detonator, car recorder, smart meter, vacuum switch, digital camera, motor drive, clock circuit, UPS, toy, program-controlled switch, etc.
Low ESR winding supercapacitor series specification sheet:
Series name

LR Series supercaps

Type name

LR-2R7

Rated voltage

VR

2.7V

Surge voltage

2.85V

Capacity range

1F~100F

Operating temperature range

-40 ~ +70℃

Product life

Normal temperature cycle life:25℃,1 million cycles between VR and 1/2VR , Capacity attenuation≤30% ,ESR change≤4 times.

High temperature endurance life:70℃, maintain VR ,1500 hours.Capacity attenuation≤30% ,ESR change≤4 times.
Ultracapacitor product drawings: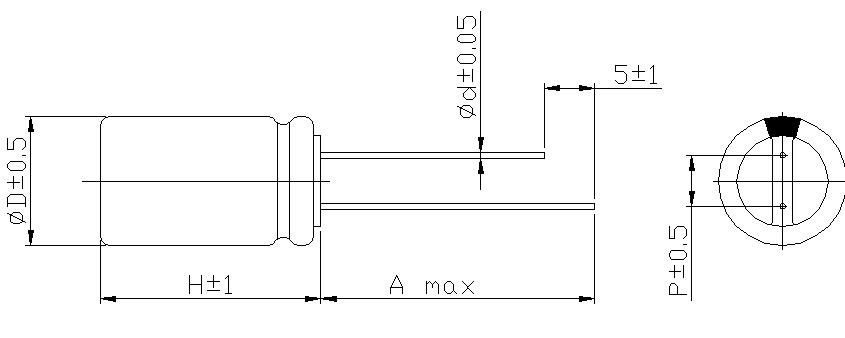 If you need to buy super capacitor, please contact our sales team via info@kamcap.com. Enquires are welcome at any time.
Product performance list :
LR 2.7V Series products
Model

Capacity

F

ESR mΩ

Product size(mm)

DC

AC

1kHz

Diameter

Height

Pin distance

LR-2R7-J254UYJ03

0.25

300

150

5

12

2

LR-2R7-J105VYJ06

1

170

85

8

13

3.5

LR-2R7-J205VYJ07

2

105

70

8

20

3.5

LR-2R7-J205VYJ08

2

105

70

8

16

3.5

LR-2R7-J205VYJ66

2

105

70

10

13

5

LR-2R7-J205VYJ13

2

105

70

10

20

5

LR-2R7-J335VYJ07

3.3

85

60

8

20

3.5

LR-2R7-J505UYJ04

5

60

40

8

24

3.5

LR-2R7-J505VYJ13

5

85

55

10

20

5

LR-2R7-J705UYJ13

7

85

55

10

20

5

LR-2R7-J705VYJ11

7

46.5

30

10

25

5

LR-2R7-805VYJ11

8

53

35

10

25

5

LR-2R7-J106VYJ12

10

55

25

10

30

5

LR-2R7-J106VYJ09

10

55

25

12.5

21

5

LR-2R7-J256UYJ21

25

25

17

16

26

8

LR-2R7-J107UYJ28

100

10

5.0

22

46

10

LR-2R7-J107UYJ29

100

10

5.0

25.4

40

10

LR-2R7-J127VYJ30

120

9.6

4.8

25.4

54

10

LR-2R7-J157VYJ30

150

9.2

4.6

25.4

54

10

LR-2R7-J227VYJ31

220

8.0

4.0

30

50

10

LR-2R7-J307VYJ32

300

7.0

3.5

35

54

10

LR-2R7-J367UYJ32

360

6.0

3.0

35

54

10

LR-2R7-J367VYJ33

360

6.0

3.0

35

61

10

LR-2R7-J407UYJ33

400

5.6

2.8

35

61

10

LR-2R7-J477VYJ33

470

6.0

3.0

35

61

10

LR-2R7-J507VYJ33

500

6.0

3.0

35

61

10

LR-2R7-J557VYJ75

550

5.6

2.8

35

70

10

LR-2R7-J607VYJ75

600

5.6

2.8

35

70

10